AVI/ transport of animals
We offer comfort shipments of live animals, handled by licensed employees and door to door delivery by road transport all over EU.
Shipment of animals by air requires special handling. Transport conditions must comply with IATA regulations, published in "Live Animals Regulations".
Our employees have required training and experience in shipping live animals. We are at your disposal at all times.
If you plan on shipping your pet, it is suggested to start with:
Agreeing on the route and transit conditions;
Acquiring booking confirmation (you can call our office at 32 284 50 80 or write an e-mail to avi@e-cargo.pl)
Acquiring all required authorizations and certification;
Making sure the animal gets used to transport conditions at least a few days before travel- you should buy the cage and e.g. put your pet's favourite toy inside;
Give the animal something light to eat 2 hours before leaving for the airport;
Arrange pick-up at destination.
More detailed information can be found on IATA website.
Additionally, we offer door-to-door delivery in EU by road transport. We co-operate with verified, licensed carriers. Animal is transported in air-conditioned vehicle (size depends on the type of animal), verified by Veterinary Inspectorate. Vehicles are equipped with GPS and temperature indicator, so our customers can check where their animal is at given point and what in what temperatue it travels.
How to choose the right cage for your dog, cat, rabbit, ferret?
The right cage must enable animal to freely turn around, sit up straight and lay down.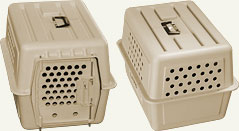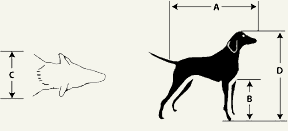 Here are the basic features of the right container:
Cage inside must be at least as long as the length of the animal from the end of the tail until tip of the nose + half length of the front paw (A+½B);
Cage inside must be at least as wide as double width of animal's body, counting from shoulder blade to shoulder blade (through spine) (2*C)
Cage inside must be at least as high as the height of the animal in standing position- in the heighest point of its body (ears, tip of head)- look at dimension D;
Outside handles for carriage, ventilation holes on the sides, transparent net on the front (net must be at least 2 mm thick and mesh not bigger than 2,5 cm to 2,5 cm), water container, absorptive mat on the floor (or other excrement disposal system).